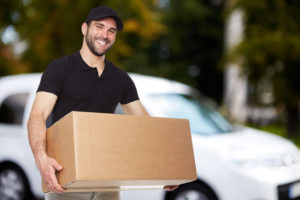 When you finally find a new home, you're not thinking much about the weather on moving day. You've booked moving services and set the closing date. Now moving day approaches and… it's set to be one of the hottest days of the year. What now? Prepare, prepare, prepare, and keep safety in mind with these suggestions.
Avoid peak temperatures of the day.
Coordinate with your moving services to avoid the worst heat of the day (usually somewhere between 11 a.m. and 2 p.m.). Choose to do the majority of your moving either early in the morning or late in the evening.
Dress comfortably.
Check the weather at least twice: once the night before, and once first thing in the morning on moving day. Plan an outfit that is light-colored, not too thick or stuffy, and flexible for lifting and moving without chafing. If it's going to rain on top of being hot, consider a lightweight plastic rain poncho.
Have a generous amount of bottled water nearby.
If you're doing heavy lifting and moving on a hot day, it's crucial that you stay hydrated to avoid heat sickness. Offer some water to your movers, as well. Other little comforts like snacks and towels are helpful to have around, too. Not only will you get thirsty, you'll get sweaty, dirty, and hungry.
Call ahead of time to turn on the electricity and other utilities at your new home.
Waiting until the last minute to get your utilities settled means you could go longer than you'd like without air conditioning or fans. Yikes.
Pay extra attention to pets and kids.
Children and pets are stressful during a move any day, but denying a safe, cool space to them during extreme heat is potentially dangerous. Try to keep animals and kids supervised at friends' or relatives' homes on moving day until you can safely get them into cooler conditions in the new home.
Know which of your belongings are heat sensitive.
Carefully packing heat-sensitive electronics, batteries, food or other materials will make it easier to get them inside your new home quickly and out of the possibly damaging heat. Moving services deal with moving sensitive electronics for about a fifth of their job, so ask your movers for advice on moving sensitive equipment if you're not sure how.
In case heat sickness does occur, know the signs. Even if you keep everyone hydrated, fed, and slathered in sunscreen, heat sickness can occur. Common first warning signs include headache, nausea, fatigue, dizziness, confusion. Make sure everyone gets enough water and takes periodic rests in a shady or cool place so no medical disasters occur.
There's no doubt about it, the combination of moving and heat is stressful, but you can absolutely avoid making it dangerous for yourself, your family, and your movers. Exercise reasonable caution and you'll get through moving day peachy-keen.