Experienced Movers in Delaware
Why Choose Delaware Moving & Storage?
According to American Community Survey (ACS) data, about 13% of Americans move every year. When you need movers in Delaware, you don't want to hire just any moving company. You want a moving company that's been providing quality customer service for well over 30 years. You want Delaware Moving & Storage. Our movers in Wilmington, Delaware have an A+ rating with the Delaware Better Business Bureau, and we're the proud winner of the U.S. Small Business Administration Family Owned Business of the Year Award. Our moving services are unparalleled, and you can rest assured when you choose to work with us that your satisfaction is 100% guaranteed.
Whether you're moving locally, statewide, nationally, or even internationally, we have the professional experience to get the job done right. We'll help you pack up your belongings to get ready to move, and we also offer storage services to protect and secure your items while you're away. For more information about our moving services or to schedule a consultation with us, be sure to reach out to us today at Delaware Moving & Storage.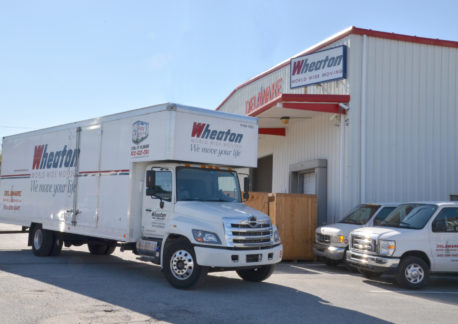 About Us
Leading Movers in Delaware
Delaware Moving & Storage has been a household moving and storage solution since 1984. Not only do we offer our customers individualized resources, we go one step further and anticipate their moving needs. Delaware Moving & Storage offers the latest equipment for all your relocation needs.
Our Wilmington Delaware movers work carefully, responsibly and professionally to maintain your satisfaction. After all, putting our customers first has been our priority since we began over 30 years ago. Whether you are relocating your office, moving a company executive, or transitioning elsewhere with your family, from the moment you first call Delaware Moving & Storage, you'll notice the importance we place on care and the attention we pay to detail.
Fast
Facts
Has provided household moving and storage services since 1984
Has been an agent for Wheaton World Wide Moving since 1999
Has won the US Small Business Administration Family Owned Business of the Year Award
Is a Delaware Better Business Bureau (BBB) accredited business with A+ rating
Is an established member of the American Moving & Storage Association
Contact Us
Trust Delaware Moving & Storage to provide
high quality moving services

at competitive prices.

If you are moving to Delaware and need relocation services, call us today for a free estimate at (302) 322-0311 / Out of state: (800) 296-0417 or fill out our online form for a Free Estimate!

Request An In-Home Estimate
Client Testimonials
See What Our Happy Customers Are Saying…